It's amazing how your hair color and cut can accentuate or minimize facial shape, structure, and traits like eye placement, nose size, and chin width. Your face shape should be the primary factor to consider when choosing a haircut, style, or hair color that will both enhance your favorite features and minimize your well... not so favorite characteristics.  

In case you missed last week's blog, let's review. The goal of 5 of the 6 face shapes is to look like the 6th oval face shape. This symmetrical face shape can wear any style or cut in a flattering way. The oval face shape has a forehead that is minimally wider than their curved chin.
The long, aka oblong face shape, is longer than it is wide. Your forehead, cheeks, and jawline are approximately the same width and your chin has a slight curve or is angular. Celebs with the long face shape include Liv Tyler, Kate Winslet, and Olivia Wilde.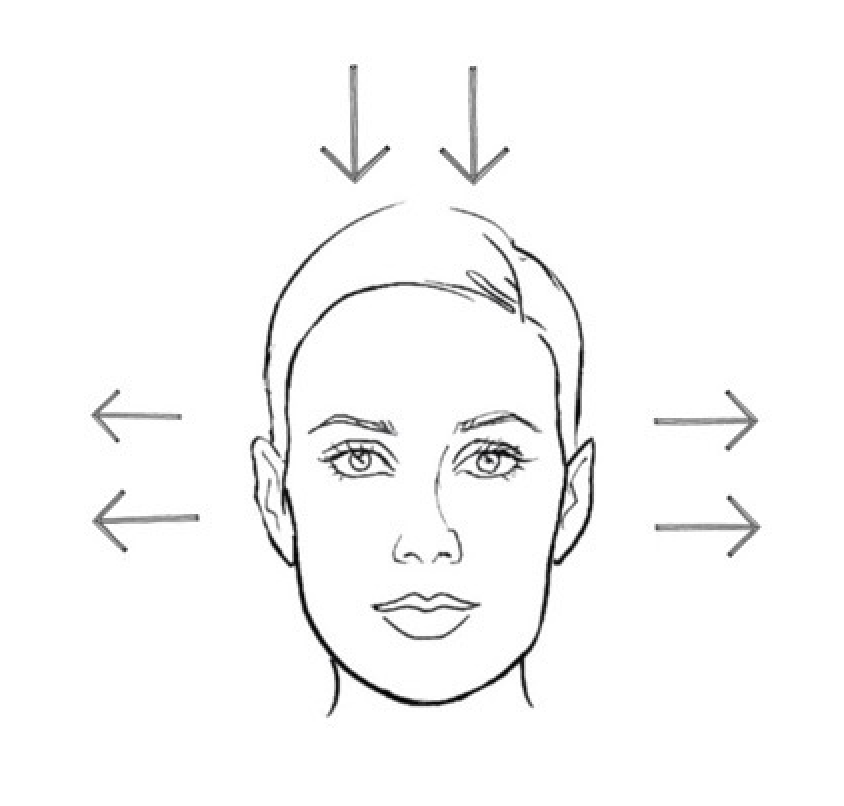 For oblong face shapes our goal is to make the face wider, creating a more oval-like shape. Make this happen by creating horizontal lines with your hair and taking advantage of these tips & tricks that will create width at the cheek area and flatter your face:
Round or square layers
Bobs (or lobs!)
Soft, sexy waves
Side styles and retro curls
Short or mid-length cuts
Accessorize with a wide brim hat
Note: if your eyes sit closer together, creating horizontal lines at eye level will also pull your eyes apart.  

Avoid short haircuts that create height and are tight at the sides. Instead, go for haircuts that are flatter at the top, but cause the eyes to go side to side.
Ashley Simpson's haircut is literal perfection for the longer face shape. Her long side-swept fringe cuts the face in half (shortening the longer face shape) as well as creates a horizontal silhouette.
Go for side-parts rather than center-parts, which will just elongate your face. A fringe is the long face's BFF. For the mid-length look, a length that cuts your face shorter, slightly above or below the chin with lots of layers is perfect.
This cut on Dianna Agron is iconic. It took her from girl next door look to an absolute edgy powerhouse of a woman.
Step 2: Rough dry your hair. Section out the front triangle of your hair that creates your fringe. Use a small paddle brush, like our Denman D84 Mini Paddle Brush, to wrap dry your fringe one direction across your forehead and then the other. This will eliminate any weird cowlicks. Once your fringe is dry at the root, use your brush to blow it out forward giving it a slight bend at the ends.
Step 3: Once your hair is completely dry, use a flat iron to edge out any waves or frizz.
Step 4: Next spray Davines Dry Texturizer all over hair using your fingers to piece together layers.
Step 5: Finish by spraying Cult and King Setspray to hold the look all night!
Long, one-length haircuts or long layers are not the best fit for the long shaped face. Rather, go for a look that creates width, such as heavily layered cuts or curtain bangs.
Want to blow dry hair straight in half the time? Start with a smoothing product like Innersense Serenity Smoothing Cream. Apply to the mid-shaft and ends of the hair.
Next, use a paddle brush or smoothing brush and the wrap dry technique (the flatness of the head and brush create almost a flat iron type effect). We love the Denman D38 Rose Gold Power Paddle Brush.
Curly hair is perfection! Take for instance, the two looks of our infamous Carrie Bradshaw, aka Sarah Jessica Parker.
Then curly...
Which hairstyle do you think accentuates Sarah's oblong face shape more? The straight? Or the curly?
The width and movement created by curls is perfect to create softness to the sometime angular long face shape.
Liv Tyler is another stunner. Her oblong face shape lends to the perfect example of how a cut can create fullness and lift. As you can see in the left photo, Liv's primary hairstyle is straight and long. The narrow silhouette and longer vertical flow accentuate her longer face shape. In contrast, her long locks with heavier layering on the right widens her face and accentuates her beautiful high cheekbones. What a difference the right cut and a fringe makes, right?
For the gorgeous men in our lives, we suggest going for something fuller on the sides with no height, or just a close, even height to sides ratio to minimize elongation. We tend to stay away from tight sides and height as it elongates the face.
When you are going for softer waves, go with hair products for men that deliver softness and movement. One of our favorites is Cult and King Balm. This unisex hair product also acts as a amazing beard balm so you can sport the entire Jake Gyllenhal look.
Are you daring enough to add length? We hope so, because this is one of the sexiest looks on a long face shape. Slight length is your friend as it creates width but doesn't add height.
Best Hair color for a long face
When it comes to color, you want the eye to follow a horizontal silhouette. One all over color creates a vertical line (a big no-no) so go for multidimensional color with a longer shadow root, like this look I created on model, Amanda Schweers.
Another good look is an ombre or sombre where the highlights get heaviest around the cheekbone. This will cause the eyes to look horizontally widening the silhouette.
Best Hairstyles for a long face
When it comes to styling your hair, focus on less height and more body. A bouncy, full blow out with small to large waves is your best bet.
Side-parts and side-swept bangs are your best friend.
Create maximum width and body using the following steps:
Step 1: Apply Oway No Rinse Conditioner (For thicker hair types) or Oway Phyto Protein Detangling Mist (For fine to medium hair types) to your mid-shaft and ends. Next apply Oway Flux Potion to your mid-shaft and ends.
Step 2:Rough Dry until dry. As you will be using a curling iron, it is unnecessary to blow out your hair using a round brush or other tool. Section your hair into 3 horizontal sections (1. from nape to behind the ears 2. from behind the ears to the crown, and 3. from the crown and recessions to the top of the head. Clip, using Shark Styling Clips, the top two sections out of your way.
Step 3: Starting at the bottom section, begin taking square inch subsections and curl toward the face. Use a 1 1/2 inch curling iron, like our  Babyliss Curling Iron - the best iron on the market! Alternate directions you are curling from subsection to subsection.

Step 4: Continue to drop each horizontal section working toward the top. Curl all the hair on the heavy side of your head. When you reach the front sections of your hair, remember to always curl away from the face.
Step 5: Spray hair with Davines Extra Strong Hairspray, then let cool. Hair needs to set to hold its curl, so spray it then work on your makeup or putz around the house so you are not tempted to touch it.
Step 6: Once your hair has set and cooled, use a wide-tooth comb or our Denman Brush D17 Curl Volumizer  and lightly brush your hair from mid-shaft to ends. Use O&M's Desert Dry Volumizing Texture Spray throughout waves to create fullness. It is Victoria's Secret hair in a bottle!
Step 7: Set with Hairspray again. If you want to glam it up, barrette one side back.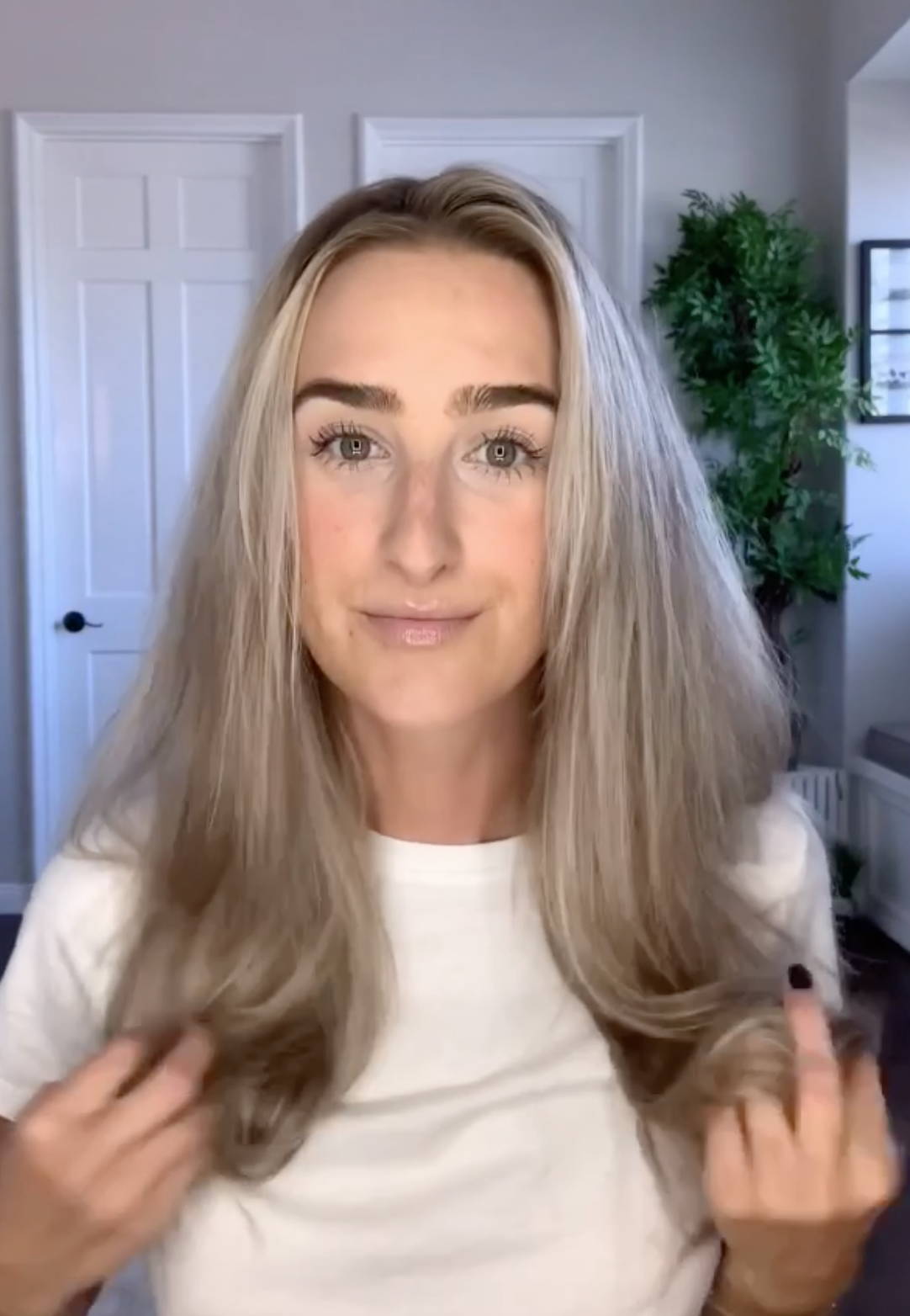 Is long, bodifying hair more your style? Check out our My Hair Routine video for the full steps on how to achieve Lexi's perfect locks.
Best Upstyles for a long face
Looking for an upstyle for an upcoming event? No problem! Focus on low-set chignons with soft waves around the face, like Kate Winslet. This look creates width without adding height or length.
Want to know more about your face shape? Stay tuned for our monthly series where we will be dissecting each shape and sharing the best looks for you!
XOXO,
North Authentic
Stay up to date on best hairstyles, cuts, products and styling tips with our newsletter delivered straight to your inbox. Sign up below to get alerts on shoppable hair tutorials, cleaner lifestyle hacks, toxic free beauty, and much much more!