How Do I Blow Dry My Hair Without Damage?
You know that multiple blow dry's per week can take a toll on your hair. But how can you give up on smooth, silky locks? We're here to tell you that you don't have to.
And those blow dry questions you are wondering about? We've got the answers to those too.

Does a regular blow-dry damage your hair?
Yes, hot air beats up your strands, makes them feel dry, and leads to the appearance of breakage and frizz. If done wrong, that is. When done right, on the other hand, you can maintain your fresh looking style without that blow dryer destruction you dread.
Is blow drying hair as bad as straightening it?
Maybe you are more a fan of your straightener. The good news, blow drying is actually less damaging to hair than a heated straightening tool because, rather than the heat focusing on one spot, the blow dryer keeps the heated air moving. Also, your delicate strands may heat up with a blow dry, but they never come into contact with hot meal.
How can I restore my hair that's damaged by hot blow-drying?
Before we begin down the path of hair that looks smooth and fabulous, let's talk damage done. If you've been a blow dryer devotee for some time now, you've probably looked in the mirror and thought…how can I restore my hair that's damaged by hot blow drying?
The answer: Change your blow dryer habits immediately with our damage-control tips. Oh, and enlist the help of some legit amazing hair products (sans the sketchy ingredients) that counteract hair bullying. A weekly Olaplex No. 3 Hair Perfector treatment and Original Mineral Power Based Protein Hair Mask are imperative to turning around the appearance of damage from heat styling.
What products should I use before I blow dry my hair?
The first step in setting up your brand spanking new blow dryer routine is to consider what should be done before a hair blow-dry. Let's find out which products are absolute must-haves for your blow drying hair care arsenal.
Leave in conditioner or hair serum: Leave in conditioner works well on all hair types, offering a hit of light moisture that makes strands look smoother and well behaved. Extra points for a leave in with heat damage benefits, like a heat protectant spray. My favs or fine to medium hair are Original Mineral Know Knott Detangling Spray. For thicker hair types, go for Oway No Rinse Moist Hair Leave-Conditioner.
Serum is usually more concentrated and provides a feeling of richer hydration, best for hair that is dry, thick, coarse, or frizzy. Our fav anti-frizz serum is Oway Silk'n Glow Serum.
If your hair is super dry or damaged, feel free to double up with Reverie Ever Recovery Oil.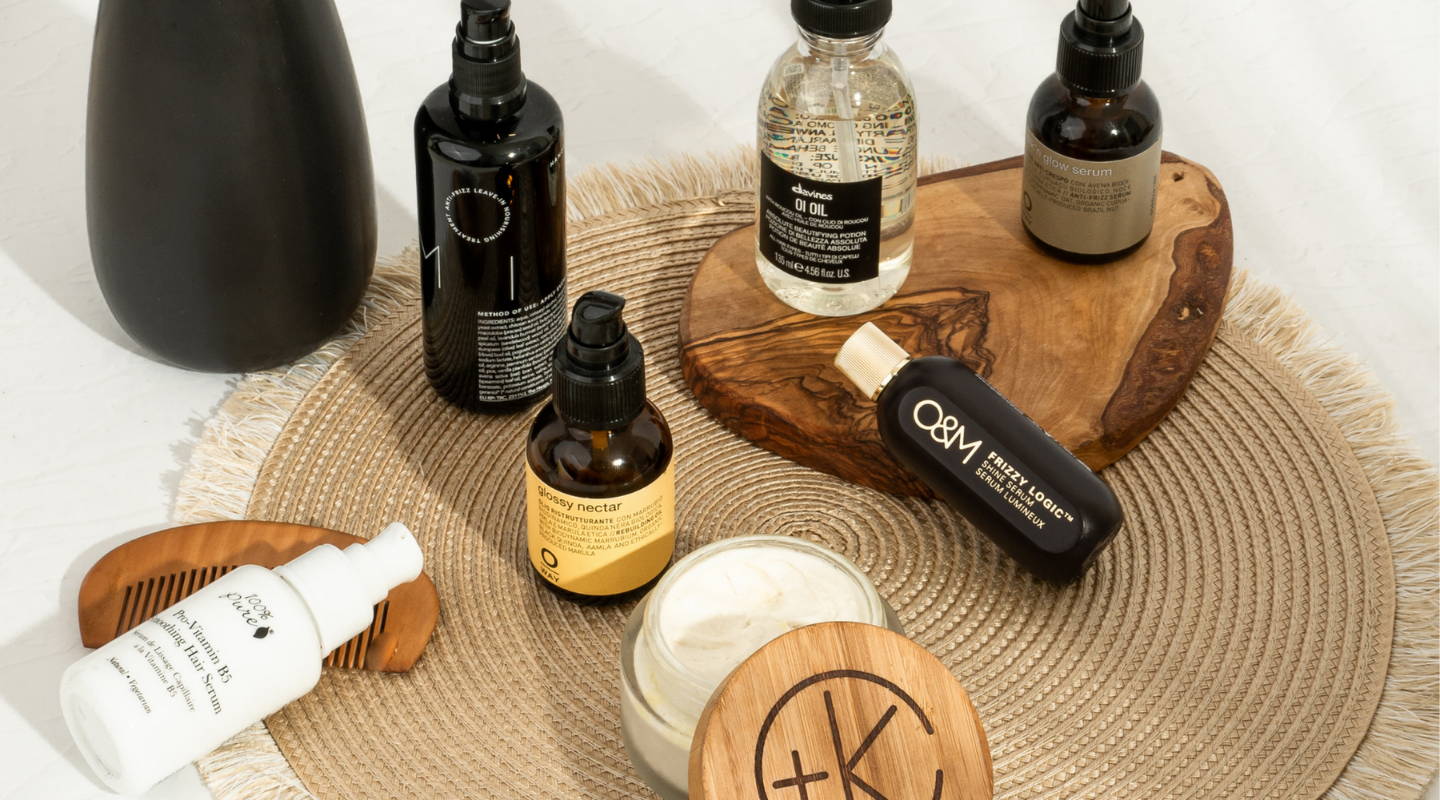 Styling product: While this product type is essential to getting the look you are after with your blow-dry, the type you pick all depends on your hair goals. Looking for volume? A mousse is one of the best hair volume products and works wonders for creating the appearance of the body in fine hair and limp hair types. I love Original Mineral Rootlacious Root Lift and Volume Mousse.
After that glossy, voluminous blowout look? Try a styling cream to up your smooth and bodacious factor. Our fav is S4E Hair Cream.
For those of you whose hair likes to revert to its wavy, curly, or textured ways once it comes into contact with a touch of humidity, pick up a gel or styling cream that offers hold for a style that lasts. Innersense I Create Holdand Evolvh Smart Curl Defining Creamare our go-tos depending on your chosen formulation preference.
Comb it through: Make sure you get the most from your product of choice by combing it through with a Tangle Teezer Detangling Brush. This way you know that the product is evenly distributed on every strand for best results
How can I restore my hair that's damaged by hot blow-drying?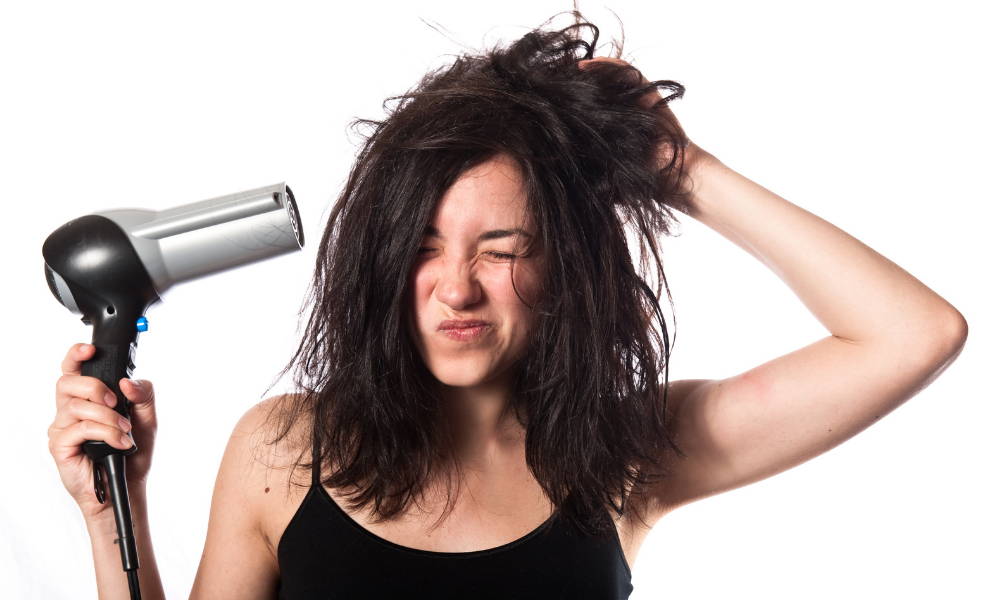 When seeking an anti-frizz solution, 100% Pure Pro Vitamin B5 Hair Smoothing Serum is your ticket to frizz-free locks. It's a buildable formula that leaves hair feeling softer and more manageable, while visibly smoothing frizz and flyaways. And lavender essential oil means it smells wicked good too.

Next, use a concentrator nozzle on your blow dryer. This makes it easier to blow dry specific sections of hair, reducing frizz and static. Be sure to point the blow dryer in the direction of the cuticle layers (aka, downward) to keep the cuticle laying flat in place, which eliminates the appearance of frizzy hair.
How do I blow out my hair at home with minimal effort?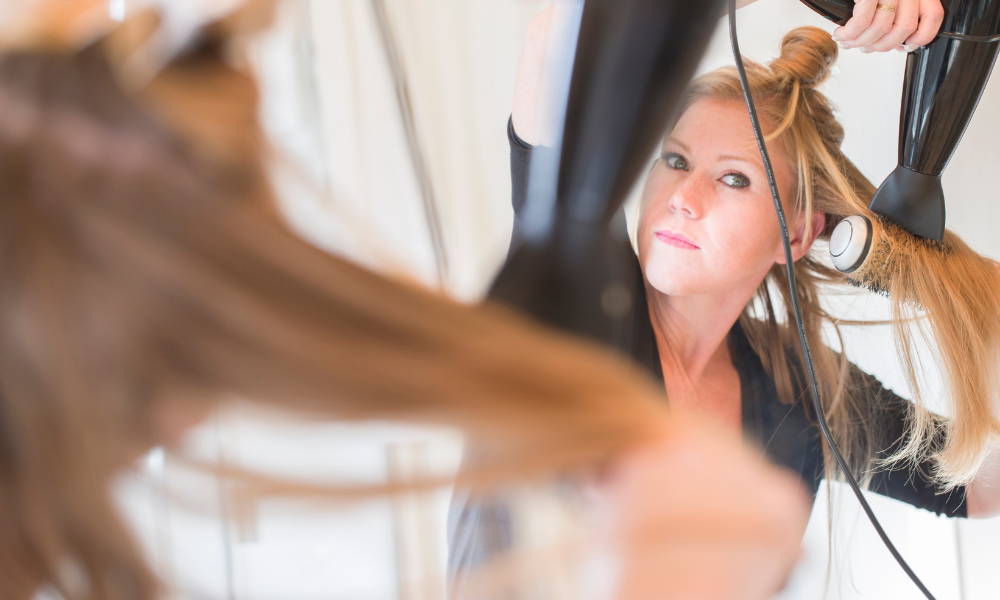 If a trip to the blow dry bar isn't in your immediate future, no worries. We have tips on getting your hair professional level sleek right at home.

Before you dry, wrap wet hair in a moisture-wicking towel, like Aquis Lisse Hair Turban, to cut down on dry time and prevent the appearance of breakage. Then apply a prep product that cuts your blow dry time in half. Oway Glossy Nectar makes hair look and feel soft and nourished, reduces blow dry time, and offers a sense of protection against heat damage.
Start the blow dry by rough drying hair with your fingers (no brush) until it's 80-90% dry. You only need to use your brush and concentrator nozzle to smooth out hair roots, waves, or frizz at the end of the blow dry. This keeps the hair's exposure to concentrated heat at a minimum.
How to blow dry hair for volume?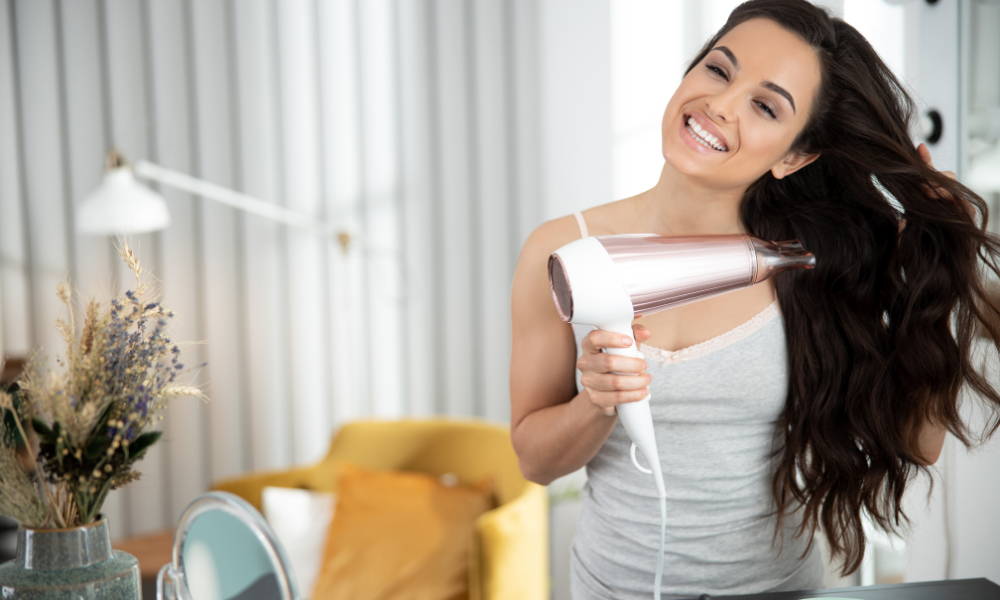 One of the biggest bonuses of blow drying is it offers something for every hair type. A blow dry straightens waves and curls, smooths frizz and flyaways, AND creates the best volume for fine and limp hair. Here's how to boost body in your hair during your next blow dry sesh.
Work a leave in conditioner through your hair. If you have fine or limp hair, select one that is lightweight and won't weigh hair down or make it look greasy.Evolvh Insta Volume Elixir is ideal. Follow that up with a volume boosting styling product. Try O&M Rootalicious Root Lift + Volume Mousse or Oway Flux Potion Hair Volumizer.
Rough dry hair upside down until mostly dry before grabbing a brush. Section hair using hair clips and tackle one section at a time so you stay organized. I recommend three horizontal sections: The nape to the top of the ears; the top of the ears to the crown; and the final mohawk section.
Choose your brush carefully. An Olivia Garden Round Brush is great for all hair types while a boar bristle brush, like Wet Brush Epic Round Brush, is the go-to for unruly, kinky, thick hair.
Begin blow drying the bottom section first then work your way up to the top section. Always point your blow dry nozzle downward on the hair shaft in order to smooth the hair and not rough up the cuticle. When you reach the top mohawk section over-direct the roots straight up...away from the direction it naturally lies, while blow drying the section. This continues to improve volume and it works well on all hair types, no matter if you have short or long hair.
Is it ok to blow dry my hair every day?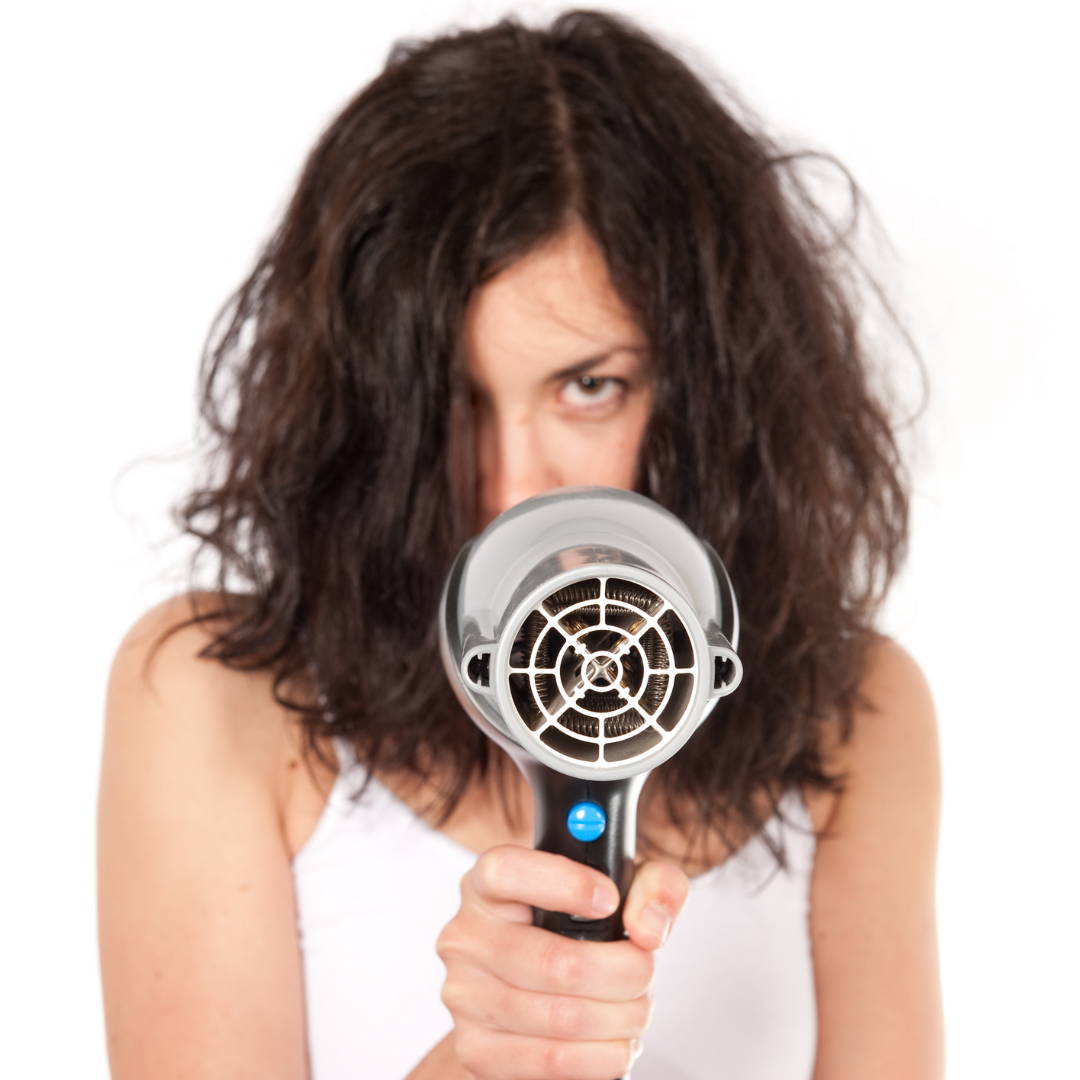 The best part of blow drying your hair is that, if done right, it will last you at least two days. Usually longer. This means you shouldn't have to put your hair through heated styling daily. Just be sure you are using our tips above on product selection and methods to keep your strands looking smooth and behaved.
Shop our Heat Protection Collection or better yet...take the North Authentic Hair Quizto get your personalized hair care prescription of the best products for your hair curl type.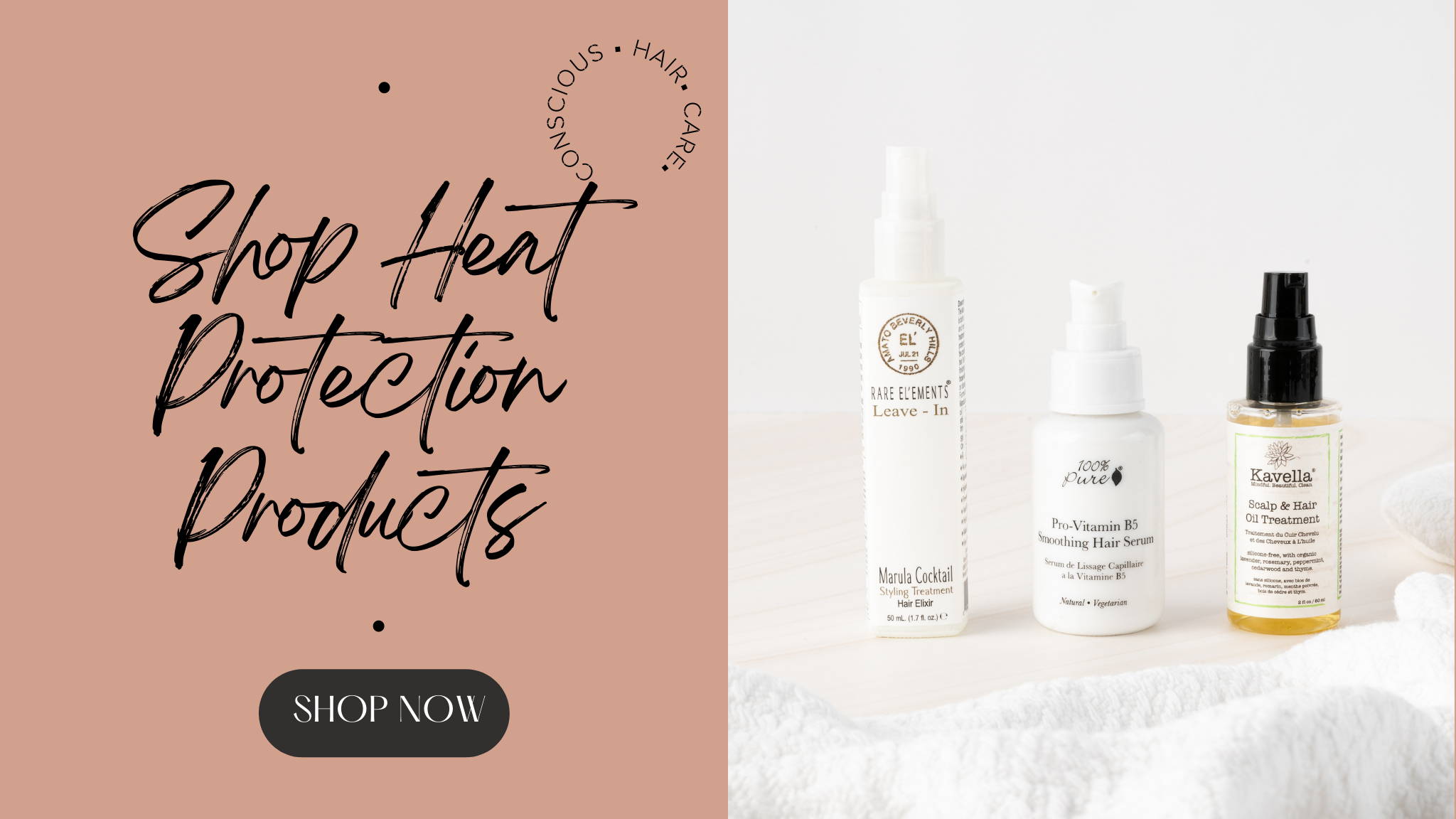 ---