My Story...How 2020 Pushed Me Farther Than I Could Have Imagined
2020 has been an insane year in so many ways, but I'm choosing to look at it as a great year. A former attorney, turned hairstylist, turned salon owner was pushed into building an ecommerce business to survive and eventually thrive.
In early 2020, my hair salon, North Salon, had already been transformed into as clean as a salon as I knew of at that time. We had color weighing technology to limit color and chemical waste. I implemented policies and practices to limit electricity and water. I changed to ammonia, PPD-free color to limit chemicals and clean haircare products on our retail shelves. I had been suffering pain, fatigue and other major issues since 2018, which my doctor attributed to autoimmune issues including Hashimoto Disease. This had lead me in the direction of eliminating toxins from anywhere in my life that I could.
In March, I was forced to shutdown and could no longer touch the clientele I had worked so hard to build. On top of that, I had no idea how to calm and support the employees and staff that I had. I was numb, like "There is nothing I can do about it, so just go with it." I took a few days to sit in it not sure exactly what to do. On the third day, I woke up and pulled up my bootstraps. I had to figure out how I was going to make a living. I dedicated hours to 2 things: 1) researching and applying for every grant and loan I could find, and 2) where to focus my energy in my business.
After much deliberating, I realized that I needed to expand on what I do best. Hair. A large part of my success behind the chair was how much knowledge I constantly accumulated and passed on to my clients. I focused on the chemistry of hair and why it behaves the way it does so that I could have an educated conversation with my clients and put them on the best path for their haircare. Whether it was something I could recommend or just let them know that they needed to see a medical specialist, their hair spoke to me.
Hair, and your skin, are the first thing to scream at a person when there is something going on internally.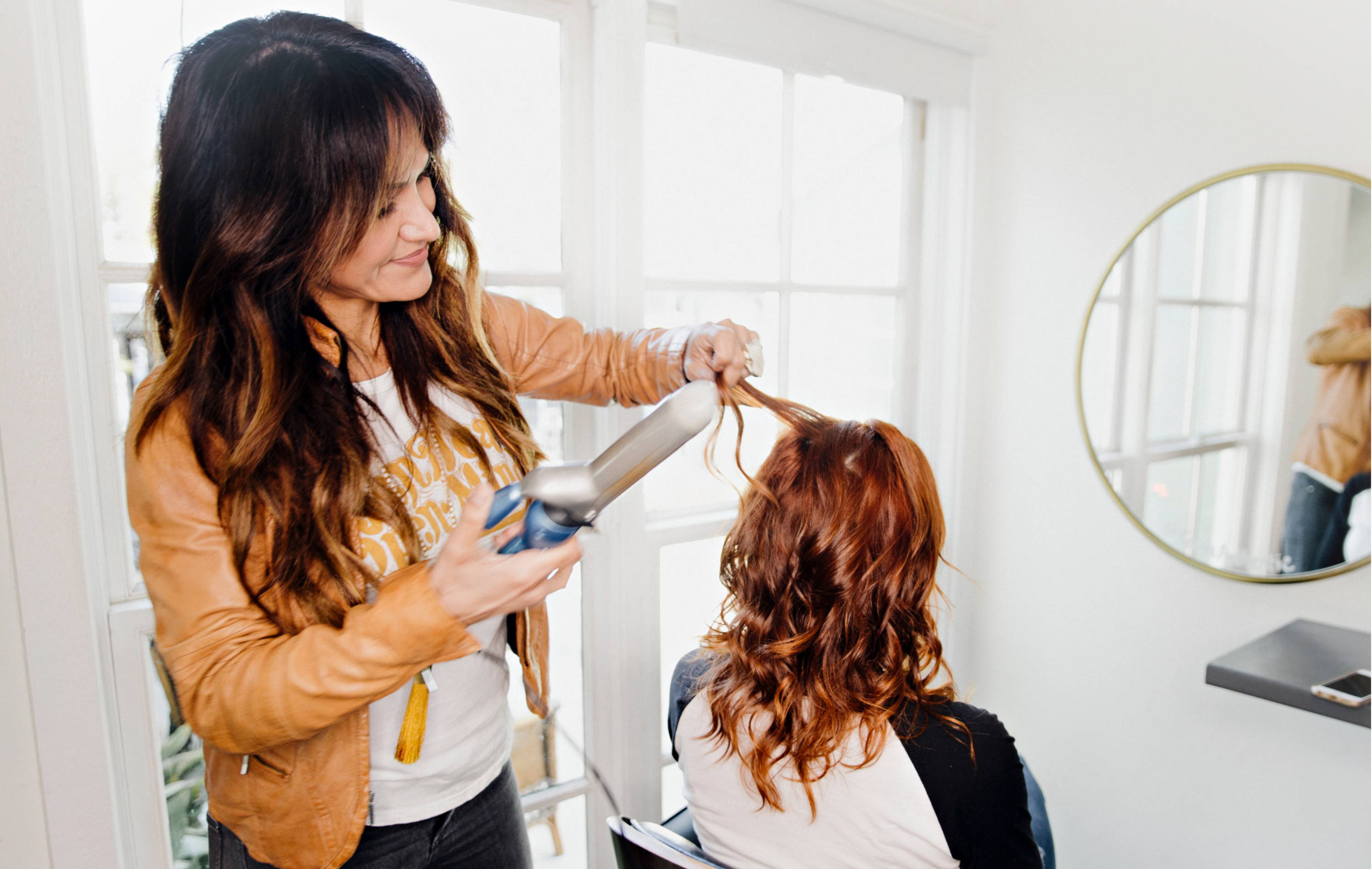 Time and time again, new clients would be astounded by the consultations I gave and the knowledge I had. They shared that they had never had a stylist give such a thorough hair consultation or prescribe a hair care routine.
Armed with this experience and finding myself suddenly in an unemployed state with all the time in the world, I dove in to making shopnorthauthentic.com the answer to three major challenges in our industry.
1. Women are shopping hair care with little knowledge of what to buy. Only 3% of hairstylists discuss products with their clients. This shocking number means most women blindly walk into big box stores and purchase products because they like the bottle or the smell. Both of which have nothing to do with how that products is going to perform or if it is the right product for your hair type, concern, texture, etc.
2. Cosmetic retailers invest millions of dollars each year in beauty counter reps for skin care and makeup products to walk you through finding that perfect lip gloss or foundation, but hair care products are still just lonely bottles on a shelf. When women are seeking analysis or consultations on what hair products to invest in, they are and feel deserted.
3. The haircare industry has been nominally touched by the clean beauty movement. Most "clean beauty" retailers will have some hair products, but the choices are few and like a forgotten step child. Considering most hair products include toxic ingredients and endocrine disruptors couple with the scalp being one of the most absorbent parts of your skin (like a literal sponge for whatever you place it) this is a major miss. There are few indie brands that are dedicated to 100% non-toxic, eco-friendly hair products (Innersense, Cult and King, Evolvh and Reverie) as well as those working hard to get there and we have them at North Authentic! I am continuously searching for clean beauty brands so we have as many amazing products to choose from as possible. Honestly, they are hard to find, but more are popping up as time goes on. Yay!
So I jumped in, but I didn't really know anything about e-commerce. I had a website that I paid to have built the year before, but it wasn't monetized. First, I needed employees and that likely meant remote. I learned everything from remote project management to messaging software and recruited two ecommerce-experienced employees to get us going (Linked in!). I self-taught myself everything from graphic design and email marketing to website development. The most education, however, came from how much I learned about toxic ingredients.
Most brands scream "sulfate free" and "paraben free" when those are only two of hundreds of toxic ingredients in their products. I learned about "greenwashing." This is where companies use phrases like "eco" and "all natural" with little to nothing behind it in order to get in on this new "clean-minded" market. How does that happen? Because the beauty industry is not regulated.
With the help of a growing team of staff and advisors, I put together our Hair Crimes List (toxic ingredients that will never be found in North Authentic products) as well as a Hair Quiz (built by me so like sitting in my chair) and shopping filters that separate out every product by hair type, hair concern, ingredients, etc., so that every customer could have an easy, expert-recommended shopping experience.
In the middle of all this I had been sick for 2 ½ years. I had worked with multiple doctors treating what they thought I had, but never getting better. In July, after hitting a wall so bad that I couldn't get out of bed for a week, I saw my doctor and learned my fate. I had toxic black mold poisoning which started to cause additional autoimmune issues. With further testing, I learned the building that housed North Salon had air quality levels of black mold 76,000 times the highest you should ever see. The test was taken in the little window nook where I loved and serviced clients for almost 3 years. I was forced to vacate the space in September as the issue was not going to be resolved.
I was unable to physically handle seeing clients again until late September, early October. I was too ill. Even then, I could only handle one 6 hour day a week without relapsing back into bed rest for 2 days. I love doing hair and love my clients, but right now my body simply is not agreeing with my career choice. Luckily, I had North Authentic to consume all my days and nights as I tried to improve my health.
Since May, we keep growing. Bringing on more staff and trying to get our name out there. I feel blessed to have friends, family, clients that have become best friends, staff and advisors that believe in me and are invested in helping me see this company succeed.
So, yes…2020 was nasty in many ways, but wow, it pushed me and my business in a direction that will make us both stronger in the long run.
---