Why Is My Hair Falling Out? Ways To Limit Seasonal Hair Loss
Seasonal hair loss? It's not just your imagination. If you start asking yourself, "Why is my hair falling out?" as autumn hits, you are not alone. Increased hair loss in fall season and winter is a real thing. Here's how to curb the shedding and keep your mane looking full and gorgeous.
Why is My Hair Falling Out?
There are a few reasons hair fall increases with the change of season. The telogen phase is when hairs rest in place for two to four months before falling out. A study published in the British Journal of Dermatology found that the most telogen hairs occurred in the summer, making August and September prime months for hair fall, which is why you may be experiencing some pretty decent shedding right now.

Some experts believe that we tend to lose less hair in summer months as a way to provide natural UV protection to the scalp. Stress is another common cause of hair loss, and if you have classes starting back up, are sending kids back to school, and beginning to think about the holidays (right around the corner, yikes!), these things could be the cause of your sudden hair fall.
Ways to Limit Seasonal Hair Loss
It can be startling to notice increased hair loss in fall season or see more strands in your hairbrush or shower drain. Here are our top tips on keeping hair fall at bay and plumping the look of your hair.

Think of caring for your scalp as the basis for keeping your hair looking full and healthy. An indulgent, feel-good way to do this is by giving your scalp a massage every week with Kavella Scalp & Hair Oil Treatment. It's silicone-free (so won't make strands feel dry and damaged) and contains an abundance of natural oils – Rosemary, Lavender, Cedarwood, Thyme, and Peppermint – for an invigorating experience for scalp and senses.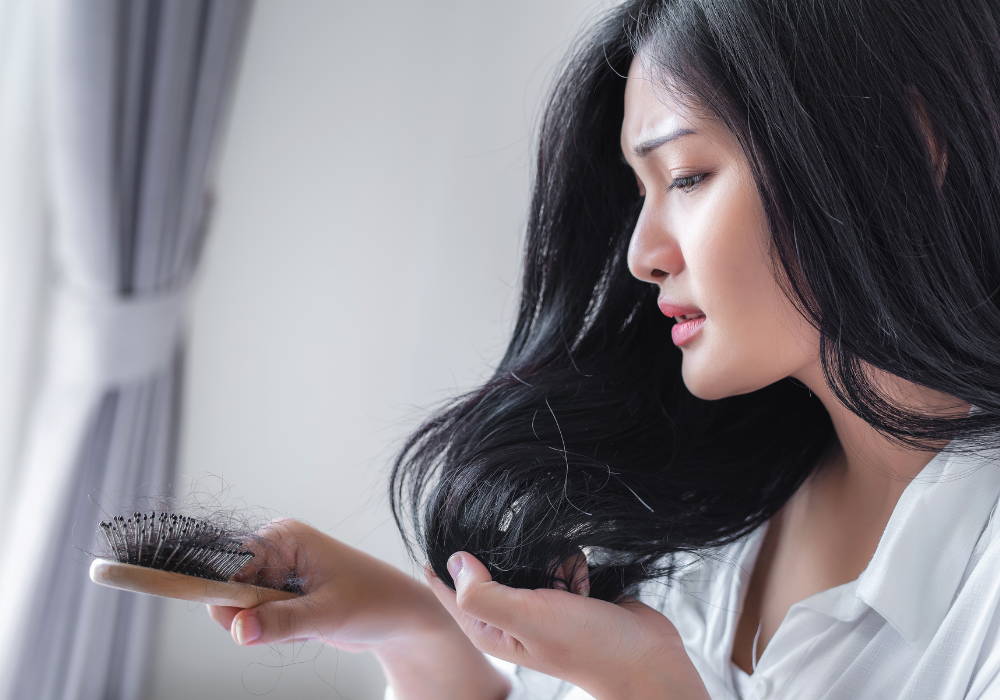 While you get your strands back on track, there are hair care products that do a great job of pumping up the appearance of the hair you have.100% Pure Grow More Shampoo promotes the hair growth as well as the appearance of full, healthy looking hair. Use in combination with 100% Pure Grow More Conditioner for best results.
When you feel your hair requires an extra boost of visible thickening power, it's time to bring out the big guns. Viviscal Professional Supplements are a drug-free option that deliver a feeling of nourishment to delicate strands. Suited to all hair types, these supplements promote the look of healthy hair growth.

Are you pulling out or causing breakage to strands while brushing your wet hair? You need Wet Brush Pro Detangler Brush. This revolutionary brush glides through hair with ultra-soft IntelliFlex® bristles, resulting in 45% less breakage. An absolute must-have any time of year. Another tip? Don't forget to give your brush a good cleaning regularly so it can perform at its best.
Easier said than done, right? You might not see the evidence of stress-related hair loss right away, but why take a chance at hair loss in winter season from stress you are experiencing now? Be sure to do things you enjoy often, catch an adequate amount of sleep, and maybe even take up meditation. A small amount of time spent on your mental health can pay big dividends in the hair department.

Stay up to date on best hair styles, cuts, products and styling tips with our newsletter delivered straight to your email. Sign up below to get alerts on shoppable hair tutorials, cleaner lifestyle hacks, toxic free beauty, and much much more!
---